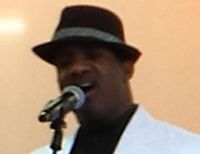 Ceasor - Vocalist

Ceasor is originally from Cleveland, Ohio, but comes to San Antonio after teaching five years in inner-city Washington, D.C.  
Teaching is his second career. Before teaching, he spent over a decade in the corporate environment as an outside sales representative. He worked for notable companies such as Merck Pharmaceuticals and CCH Incorporated.
 
He received a B.A. in English and Government from Oberlin College which is located in Oberlin, Ohio and a Masters in Early Childhood/Human Development and Special Education from George Washington University in Washington, D.C. and a Masters in Educational Leadership from the Trinity Educational Leadership Master's program.
 
Ceasor grew up in a house full of Gospel music and the soulful sounds of many of the R&B giants such as Al Green, Marvin Gaye, Smokey Robinson and Aretha Franklin. 
 
He has met and been on the stage with people such as John Lee Hooker, George Benson, John Faddis, Donald Byrd, and Patti Labelle.  Ceasor also sings with The Soul Stick Q vocal group.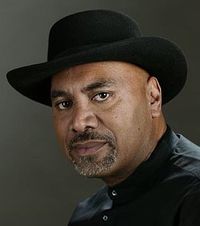 John E. Willridge Jr - Percussionist

John was born in Hawaii, but was an Army dependent and raised all over the world. John first learned to play drums at the age of 10.  John first started playing in front people in Jr High School in San Antonio, Tx. In the seventh grade he played drums and the upright Bass in the school orchestra. In the ninth grade John won his first school talent show. John spent the majority of high school in Tokyo Japan, where John played in various rock and soul bands. Returning to San Antonio,Tx for college, John and his cousin formed The Black Ingredients Band. The band won a talent show in 1972 sponsored by the Ella Austin Community Center. In 1973 John joined the Army, which lasted over 21 years. Always picking up gigs whenever he could. After retiring in 1995 and returning to San Antonio, Tx. John was a regular member of the band "30 Something" then later played with Wilbert Beasley w/ Body and Soul, Rhythm and Soul, Red Sauce Rules, Driven, Zielin and various other groups in the San Antonio area.
 
John's main instrument is the drums. He owns a 4 piece 1967 Ludwig drum set, a 6 piece CB500 drum set, a 6 piece Pearl Vision 2011, A 4 piece 2014 Ludwig set and a 5 piece Roland Electronic drum set powered by an Alesis D4 Module. Along with various Cymbals and other percussion instruments.
 
His biggest influences are Cater Beauford (from Dave Matthews Band), Michael Shrieve (from Santana), Buddy Miles, and Phil Collins to names a few.




Harold Jackson - Lead Guitarist and Music Coordinator

A San Antonio native, Harold Jackson, the Music Coordinator for Bad Funky Bones, began his musical career in 1976 when he and his brother Leroy formed the Inner City Players band.

Later Harold was offered an opportunity to join the San Antonio legend Punty Guitar and The Sensations and subsequently the Andrew "Jr Boy" Jones band.  After running its course, Jr Boy formed the Radiance band which worked consistently and eventually landed the house band spot at Bawana Dik, a  popular downtown San Antonio club.  Jr Boy introduced Harold to the music staff of Macedonia Baptist Church where later he joined and became a member of the MBC music staff for several years under the direction of Mimi Red, Alfred Dukes, Hugh Hawkins, and later, Gary Givens.
 
During his association with MBC, Harold played with numerous gospel recording artists such as the Rev. Milton Bingham (of the Georgia Mass Choir fame) and with the legendary Tramine Hawkins and Joel Bryant.

Early in the 80's Harold, along with his brother Leroy, played with Leroy Franklin (and the Star Band) when Leroy Franklin was creating his Star label and releasing his song Star Bird with vocals by Jeanie Love.

Harold later joined recording artist Mel Waiters and the Concept band which kept him working steadily until 2002 when he joined the Wilbert "Soul Man" Beasley and the Body & Soul band which had an 18 year run in total.   After Wilbert Beasley retired Body & Soul band, Harold, formed the Rhythm & Soul band with fellow musicians: Ray Martinez, John Willridge and  Mike Dees